Find, control, schedule, and monitor your AND devices

IP Clockwise is a PC/Mac application that can be used to send audio tones and messages to AND's IP Clocks and IP speakers, or as a standalone PC/Mac application for clock chimes and timers. The application provides a complete solution for programming and scheduling AND devices. IP Clockwise can also be used with our partner solutions or Cisco Call Manager as a debugging too.
General Features
Instantly finds all of your AND devices
Programmable clock chimes and bell scheduling
Configurable groups and zones
2-way communication support
Configurable switchboard for push button access to alerts and paging
Configures news, weather, stock, Twitter, #hashtag, and RSS feeds
Built in timer, stopwatch, and scoreboard
Built-in pixmap builder for creating custom graphics on AND devices
Brightness and volume are controllable for different times of day/night
Volume override capability
Runs in the background with virtually no CPU
Sound library. Also can add your own
Background music/audio support
All settings saved on exit
Clockwise demos, documentation, sound files and more can be found here.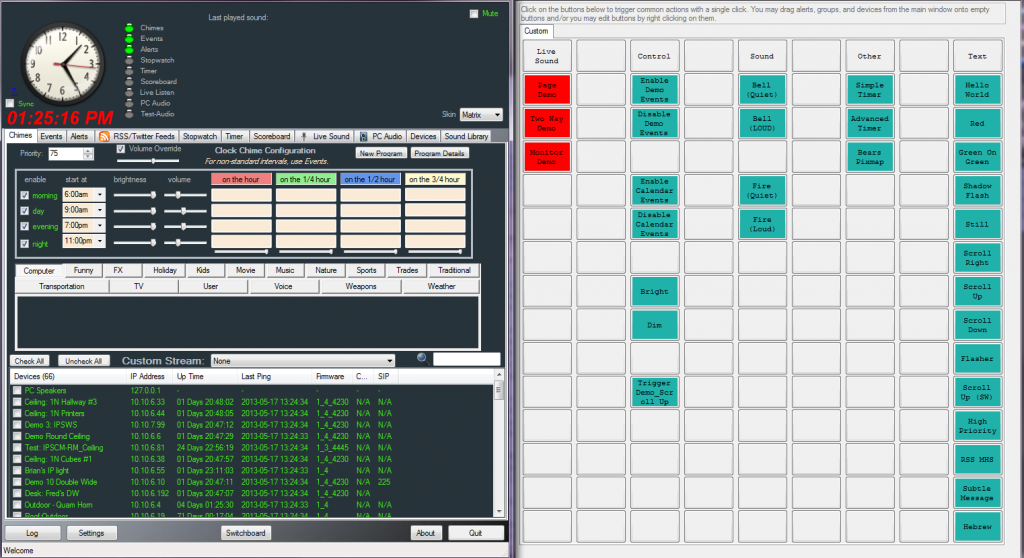 Clockwise Datasheet