Can your bell system help in an emergency?

Mass notification, bell scheduling, intercom, messaging, and timers in one device...
Advanced Network Devices are built and designed with multifunction in mind. The combination of a multi-color signboard, microphone, timer, and speaker, in one device, allows for replacement of your synchronized clock system, public address system, timers, and bell scheduler. Integration of several systems into one makes the Advanced Network Devices priority systems critical. The assignment of priorities allows you to use your mission critical notification system for every day announcements and bells with peace of mind.
Should an emergency notification be needed, the message can be assigned a priority of a 1. A priority of 1 tells the device to abort  all current and previously scheduled messages to deliver the emergency message, and to flash the optional flashers or optional strobe if really critical. Integrating your system one step further becomes possible with the use of the GPIOs (General Purpose Input/Output) provided on all Advanced Network Devices' endpoints.  Connect to pro AV systems in your auditoriums, smartboards etc. to shut off audio when emergency pages are made.
Safety First
Keeping students safe is always top of mind.  Campuses of all shapes and sizes combined with regulations like the Clery Act make it important to have a flexible mass notification solution and a single point of messaging.
Advanced Network Devices IP endpoints can be combined with any one of the many IP based software solutions.
Broadcast to phones, speakers, SMS text, email, school website and more all at once.
Easily send a notification to a specific set of classrooms, portion of the campus or the entire campus.
When there is a problem with a device or a loss of connection receive immediate notification.
Rich Feature Set
EASY INSTALLATION
AND IP Endpoints connect directly back to your network switch with only a CAT 5 connection. Devices run Power (PoE/PoE+) over Ethernet (no power cord or adapter). No other equipment needed. You are able to UPS backup your network at the switch ensuring operation of your communication system.
BUILT IN WEB SERVER
All AND IP Endpoints are totally configurable; parameters such as brightness, volume, font, servers, etc. can be adjusted via a web browser or 3rd party software. The web server allows for status and monitoring of server connections, audio streams, sensor data, etc.
FLEXIBILITY
In addition to audio, Advanced Network Devices' IP endpoints offer a signboard for synchronized time, timers, and scrolling text communications. Use the LED screen for messages in configurable fonts and colors for reminders, alerts, advertising, weather, news, or RSS feeds.
LEVERAGE EXISTING SYSTEM
Advanced Network Devices' zone controller allows you to take advantage of your existing system to integrate without IP devices and Software. Connecting this single device to your existing speaker system's amplifier allows you to realize many of the same benefits of IP with your existing hardware.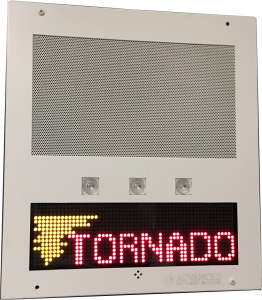 BELL SCHEDULING
IP based bell scheduling allows for segmentation of bells by school, wing or classroom. Preload altered schedules, early releases, late starts, assemblies etc.
COUNTDOWN TIMER
Leverage the built in countdown timer. Combine with the tones and bells for smooth operation of class schedules.
Ring a predetermined tone to end the period
Begin a countdown for the entirety of the passing period
Schedule text color change for the final 30 seconds (change to red)
Show the timer simultaneously with the clock
The timer can show days, hours, minutes, seconds, 1/100ths of seconds
Ring the final passing period ending bell
HANDS-FREE TWO-WAY
Advanced Network Devices' call button (
AND-BTN-KIT-1 & AND-BTN-KIT-1D
) allows for hands free, full duplex communications. Connect the IP endpoint via SIP to your IP phone network and talk from office to classroom and classroom to office at the push of a button. Program the button to recognize tow commands.  Push once to talk to the office; push and hold to connect to campus or district security.