Installations are Easier, Faster, and Less Costly
Flexibility in Network Design
Centralized Power Management
Network installations can be accomplished easier, faster, and for less cost. Power over Ethernet allows for the option of self-installation without compromising flexibility of system design. There is no longer a need for installation of AC outlets to be able to hang the devices in the desired location, greatly diminishing the electrical component from network installation projects.  The device has a single CAT5 or CAT6 cable connected to it.
PoE eliminates the constraints of AC power outlets. This provides flexibility in placing PoE-enabled network equipment, such as Advanced Network Devices IP endpoints, in the most optimal locations rather than those that are most convenient to existing AC outlets.  Ideal placement can lead to more efficient network design and optimal performance, which can reduce cost.
Using a PoE infrastructure enables centralized power management for mission critical network devices. In a power outage some systems can require several costly battery backups to act as an uninterruptible power supply (UPS) in critical situations.  With PoE, a single, centrally managed UPS can be used to supply backup power to your entire network as well as allow for central management of remote shutdowns or resets saving the time and expense of dispatching a technician.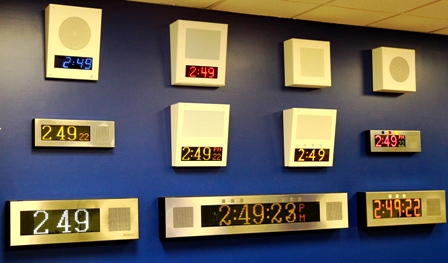 All of Advanced Network  Devices' products are  Power over Ethernet (PoE/PoE+)  and provide paging, intercom and mass notification functionality.  Our display products provide a synchronized clock display as well as configurable messaging, RSS and Twitter feeds.  They  require only an RJ-45 connector to connect to existing data networks via CAT5 or CAT6, allowing all content to be delivered via standard IP (internet protocol).
Power over Ethernet (PoE/PoE+) is a technology for wired Ethernet LANs (local area networks) that allows both data and power to flow over standard Ethernet cables.  This technology allows you to minimize the number of wires necessary in a network for the operation of each device. Both power and data are carried by the data cables, rather than a traditional power cord, resulting ultimately in lower installation and operating cost, greater flexibility and ease of installation, and reduces the need for any high-voltage precautions.