Harness The Power Of Your Network: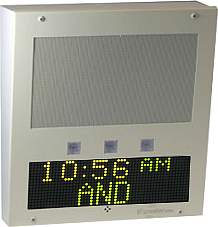 Power over Ethernet (PoE) Products That Easily Connect to Existing Data Networks:
 PoE means no power cord. Just plug it into your network cable, and it auto-boots, auto-sets with atomic time, ready to receive audio, scrolling text, alarms, background music, etc. It works on existing data networks and inter-operates with Cisco and other VoIP phone systems. Use full IP product line together to meet specific needs. Send broadcasts to specific rooms, departments, or groups as needed. Bi-directional audio/intercom supported on most models.
Selling IP speakers since 2004, Advanced Network Devices was an early provider of PoE (Power over Ethernet) devices. Advanced Network Devices was one of the first, if not the first provider of PoE IP loudspeakers. The technology is mature and long proven, which has facilitated a low cost stable product with a rich set of features, backed up by a strong, stable, engineering-rich company.
Advanced Network Devices designs and sells sophisticated multi-media applications and products. Advanced Network Devices has the know-how to handle a wide variety of network situations and can entertain custom requests.
The flexibility of our products stems from the extensive features built into the Advanced Network Devices firmware, our ability to integrate with the key software providers in the industry, and our ability to operate with standard protocols like SIP, etc..
Advanced Network Devices' products support a variety of applications including: visual display, synchronized clock, emergency notification, sound masking, etc.